ANTHROPOGENIC INFLUENCE ON NATURAL COMPLEXES CARPATHIAN NATIONAL NATURE PARK
B. Boychuk

Lviv State university of life safety

A. Kuzyk

Lviv State university of life safety

L. Sysa

Lviv State university of life safety
Keywords:
national park, Yaremche, Prut, anthropogenic load, acid precipitation, hydrochemical indicators
Abstract
Abstract. Introduction. Under the influence of anthropogenic pressures, as well as natural conditions, tourist facilities are gradually losing valuable recreational properties. To preserve and restore them requires a set of measures, which, in our opinion, is hardly possible without identifying the recreational opportunities of individual resources. The main numerical indicator of such opportunities is considered to be the recreational resource potential (RRP) of a separate territory. The purpose of this work is to determine the degree of anthropogenic impact on the recreational and resource potential of a particular area (upper reaches of the Prut River), taking into account the results of field and laboratory surveys. Methods. The method of RRP detection is based on detailed field studies. Precipitation samples were taken in the form of rain and snow. A set of hydrochemical studies was also conducted to assess the anthropogenic load on the selected area.
Research results. For one of the most popular hiking trails (route to Hoverla) in the comfortable period of the year the number of vacationers increases significantly and is, respectively: May - 83.5 people / day, June - 124.4 people / day, July - 206 , 8 people / day, August - 132.4 people / day and September - 40.5 people / day. Although in the park precipitation is formed in conditions relatively clean of anthropogenic pollution, there is a noticeable tendency to their acidification. In 2018, precipitation belonging to acidic and weakly acidic accounted for 30% of the samples taken, and in 2019 - 33.3%. The pH ranged from 3.9 to 5.6 units. Almost all hydrochemical parameters of the Prut River in the study area are within acceptable limits. However, there is a clear increase in the total mineralization in the areas below the wastewater discharges, compared with the background areas. A similar pattern is observed with the nitrogen group.
Conclusions. Due to good aeration of water in the Prut River, all biological, physicochemical and biochemical processes are very intensive and, accordingly, the process of self-cleaning of the reservoir is very fast, so the water quality in it remains stable and close to the natural state of the reservoir. As a result, it is shown that it is necessary to effectively implement measures for the protection and restoration of tourist resources, as well as to identify ways to rationally use them.
Downloads
Download data is not yet available.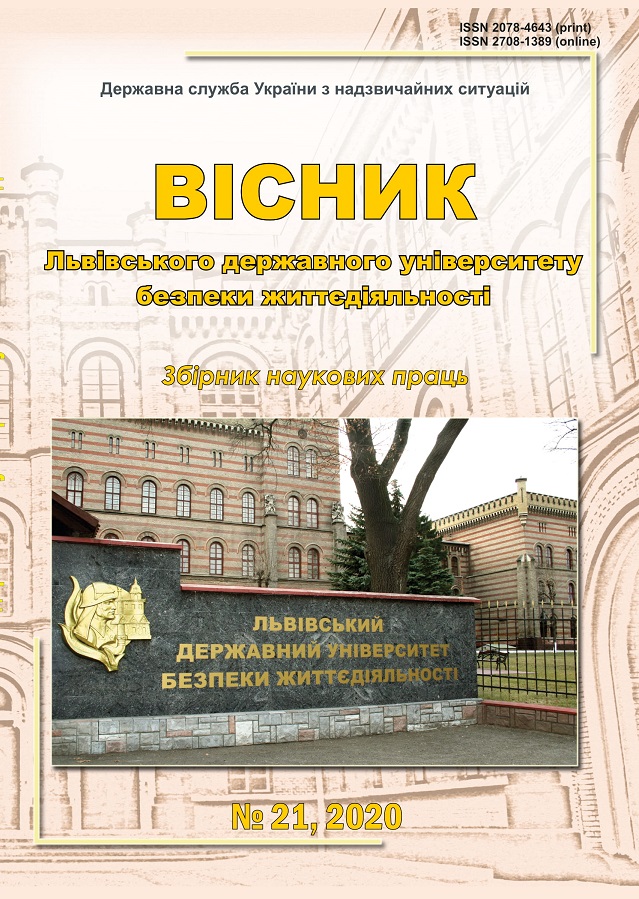 How to Cite
Boychuk, B., Kuzyk, A., & Sysa, L. (2020). ANTHROPOGENIC INFLUENCE ON NATURAL COMPLEXES CARPATHIAN NATIONAL NATURE PARK. Bulletin of Lviv State University of Life Safety, 21, 86-93. https://doi.org/https://doi.org/10.32447/20784643.21.2020.10